Etude du séchage de bétons lignocellulosiques à base de pulpes de betteraves issues de l'industrie sucrière. Impact du traitement des pulpes
Drying is a major challenge of lignocellulosic concretes. The objective of this work is to compare the drying of two concrete slabs. The first one was made with beet pulps, treated or not. And other one was made with normal mortar. The relative humidity was determined to various depths by means of a electrophysical method, This technology was developed in the laboratory. This in situ method allows to follow-up continuous change in relative humidity inside a material. The drying of the lignocellulosic concrete slab is more homogeneous than that of the normal mortar slab. When beet pulps have been coated by cement slurry, in order to decrease the quantity of manufacturing water, the lignocellulosic concrete slab shows no more presence of water in the liquid state in the material after 2 days. And over 4-5 days equilibrium with the atmosphere is reached. These lignocellulosic concrete slabs also have a low bulk density and have been classified insulating materials. Thus llignocellulosic concrete slab manufacturing is a potential upgrading of this sugar industry byproduct.
Le séchage est un problème majeur des bétons lignocellulosiques L'objectif de ce travail est de comparer le séchage d'une dalle de béton à base de pulpes de betterave, traitées ou non, à celui d'une dalle identique en mortier normal. L'humidité relative a été déterminée à différentes profondeurs à l'aide d'une méthode électrophysique, mise au point au laboratoire, qui permet le suivi in-situ, en continu, des variations d'humidité relative à l'intérieur d'un matériau. Le séchage de la dalle en béton de pulpes est plus homogène que celui de la dalle en mortier normal mais beaucoup plus long. Lorsque les pulpes de betterave ont subi un traitement d'enrobage, par un lait de ciment, afin de diminuer la quantité d'eau nécessaire à la fabrication, la dalle de mortier ne montre plus de présence d'eau à l'état liquide dans le matériau après 2 jours et l'équilibre avec l'ambiance est atteint à partir de 4 à 5 jours. Ces bétons présentant une faible masse volumique et étant classés isolants ou isolants porteurs, on voit donc les potentialités de valorisation de ces coproduits de l'industrie sucrière.
Fichier principal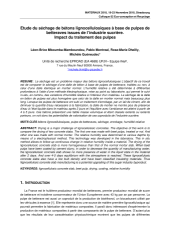 L.B. Mboumba-Mamboundou_MATERIAUX2018-729.pdf (245.94 Ko)
Télécharger le fichier
Origin : Files produced by the author(s)