Personal Rapid Transit (PRT) in Dubai
This short thesis responds to a bill of specifications of a technical analysis of a new urban transport system: Personal Rapid Transit. The PRT is therefore an automatic, light and easy means of public transport to travel on demand and without temporary stops on a dedicated site. There are 170 of them worldwide and the system studied by Supraways has the particularity of being suspended. This type of transport is subject to the same standards as Automated People Mover (APM). The study carried out thanks to the system engineering approach shows that the choice of a suspended mode requires very high system reliability due to the difficulties of passenger evacuation and the impact on system availability. This involves redundancy of critical systems such as propulsion, and oversizing of mechanical parts in the bogie to improve reliability and safety. The second part of the study focuses on the implementation of a suspended PRT on the island of Palm Jumeirah in Dubai.
Ce mini-mémoire répond au cahier des charges d'une analyse technique d'un nouveau système de transport urbain : Personal Rapid Transit. Le PRT est donc un moyen de transport collectif, automatique, léger permettant de se déplacer à la demande et sans arrêt intermédiaire sur un site propre. Il en existe 170 dans le monde et le système en cours d'étude par Supraways présente la particularité d'être suspendu. À ce type de transport s'appliquent les mêmes normes que celles qui concernent les Automated People Mover (APM). L'étude réalisée grâce à la démarche de l'ingénierie système montre que le choix d'un mode suspendu nécessite une fiabilité très élevée du système en raison des difficultés d'évacuation des passagers et de l'impact sur la disponibilité du système. Cela implique la redondance des systèmes critiques comme la propulsion et un surdimensionnement des pièces mécaniques du bogie pour améliorer la fiabilité et la sécurité. La seconde partie de l'étude porte sur l'implémentation du PRT suspendu sur l'île de Palm Jumeirah à Dubaï.
Fichier principal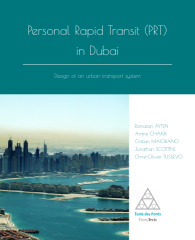 1-PRT_in_Dubai.pdf (630.98 Ko)
Télécharger le fichier
Origin : Files produced by the author(s)