Pratiques scientifiques et activité de communication pour le grand public : Les conservateurs de musée et la réalisation des expositions de peinture
Museum curators are rarely the subject of analysis as scientists. By contrast, there is a whole literature on their propensity to give priority to the scientific knowledge of collections over the effort to communicate with different audiences and make museums accessible. This article examines the Late Raphael exhibition at the Louvre (Paris) and draws on the exhibition texts (catalogues, artwork labels, wall texts) to explore the practical activity and preoccupations of the museum curators concerned: the exhibition is simultaneously material for the scientific demonstration of a thesis – part of a debate on the value of the artist's late works – and for communication aimed at both fellow specialists and the wider public. Communication is not distinct from scientific research and handled with less respect. The two are directly interwoven and communication represents a practical activity with its own difficulties.
Les conservateurs de musée ne sont guère analysés en tant que scientifiques. Ils sont, en revanche, l'objet de toute une littérature qui leur prête une propension à faire prévaloir leur penchant pour la connaissance savante des collections au détriment de l'effort pour communiquer envers les divers publics et rendre les musées accessibles à ceux-ci. Le document de travail s'intéresse à l'exposition Raphaël, les dernières années du musée du Louvre (Paris) et y étudie, à travers les textes (catalogue, cartels, textes muraux), l'activité pratique et les préoccupations des conservateurs concernés : l'exposition est simultanément un support de démonstration scientifique d'une thèse – qui prend place dans un débat sur la valeur des œuvres de fin de vie de l'artiste – et de communication à l'intention des pairs comme d'un plus grand public. La communication n'est pas dissociée de la recherche scientifique et traitée avec moins d'égards. Elle est directement entremêlée avec elle et représente une activité pratique révélant ses difficultés.
Fichier principal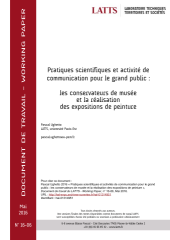 WP 2016 06 UGHETTO VF 2.pdf (383.99 Ko)
Télécharger le fichier
Origin : Files produced by the author(s)