Construction et génie civil 4.0
The construction industry is undergoing profound changes. The lack of skilled labor, a real need to optimize production to reduce costs and environmental impacts, and the need for better interoperability between too many players require new, more integrated models, as in the automotive industry. We need to reimagine the prefabrication of the 1970s. Thanks to digital technology and new tools for design, representation, measurement and manufacturing – such as robotics and 3D printing – it has become possible to offer mass-customization of prefabricated architectures and serial prototypes. With this in mind, École des Ponts ParisTech is developing several research and development programs in partnership with academics and industry, with the support of the Build'In technological platform, which is backed by a SESAME Île-de-France project.
L'industrie de la construction est en profonde mutation. Le manque de main d'œuvre qualifiée, un réel besoin d'optimisation de la production pour diminuer les coûts et les impacts environnementaux, la nécessité de mettre en place une meilleure interopérabilité entre un trop grand nombre d'acteurs, nécessitent de nouveaux modèles plus intégrés, comme c'est déjà le cas dans l'industrie automobile. Il faut réimaginer la préfabrication des années 1970. Grâce au numérique et aux nouveaux outils de conception, de représentation, de mesure et de fabrication – robotique ou impression 3D, par exemple – il est maintenant possible de proposer une mass-customisation d'architectures préfabriquées et des prototypes sériels. Cet article présente deux programmes de recherche et de développement partenariaux. Tous deux s'appuient sur la plateforme technologique Build'In portant sur la fabrication numérique de mortiers renforcés et de systèmes constructifs en béton armé.
Fichier principal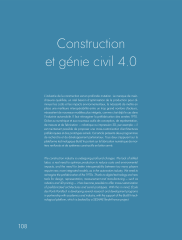 Transitions_2022_Caron.pdf (22.12 Mo)
Télécharger le fichier
Origin : Explicit agreement for this submission