La difficile quantification de la place du bâtiment dans la décarbonation
Energy efficiency improvements are notoriously slow in the construction sector, despite claims that opportunities to reduce emissions are abundant and inexpensive. Should we therefore focus on improving building envelopes or decarbonizing energy carriers? Here, we review the available data to answer these questions, focusing on the residential sector, which accounts for about 25% of final energy consumption in France. Knowledge of the housing stock and dynamics of energy renovation has greatly improved in recent years, but remains hampered by inaccuracies concerning the number of highly inefficient dwellings, annual renovation flows and the magnitude of ensuing energy savings. While these gaps prevent us from precisely answering the question, they do not challenge the relevance of energy renovation policies.
Les progrès d'amélioration énergétique des bâtiments semblent relativement lents, en dépit d'opportunités de réduction des émissions de gaz à effet supposées abondantes et peu coûteuses. Dès lors, vaut-il mieux insister sur l'amélioration de l'efficacité énergétique ou sur la décarbonation des vecteurs d'énergie ? Cet article présente l'état des connaissances pour le secteur résidentiel, qui représente environ 25 % de la consommation d'énergie totale en France. Les données disponibles sur le parc de logements et la dynamique de rénovation énergétique se sont grandement améliorées ces dernières années, mais se heurtent encore à des imprécisions concernant le nombre de « passoires thermiques », les flux annuels de rénovation et l'ampleur des économies d'énergie réalisées. Si ces lacunes ne permettent pas de répondre précisément à la question posée, elles ne remettent pas pour autant en cause le bien-fondé des politiques de rénovation énergétique.
Fichier principal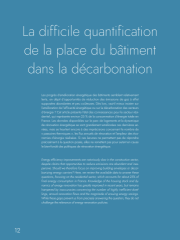 Transitions_2022_Giraudet.pdf (316.61 Ko)
Télécharger le fichier
Origin : Files produced by the author(s)