Source separation and valorization of human waste : toward implementation in Greater Paris.
Séparation à la source et valorisation des excrétas humains du Grand Paris : des filières émergentes
A holistic approach to environmental issues highlights the limits reached by the use of sewers to remove human excreta from inhabited spaces. Megacities, in particular, are today exposed to acute and still unknown challenges Given the major global changes faced by wastewater management systems, such a large concentration of population puts the classical sanitation model under stress. Apart from the frequent overloads of centralised wastewater management systems, there is their deep footprint in terms of energy expenditure, greenhouse gas emissions and continuing frequent pollution of aquatic environments. Yet managed separately, these excreta could be used as fertiliser: their agricultural application would represent a move away from the waste remediation model and an opportunity for mutual benefit between urban and agricultural zones, supplying the latter with lasting, local and nonfossil fertilising materials. Focusing on the case of the Paris conurbation, we provide a crosscutting analysis of the current opportunities for implementing source separation systems in a highly concentrated population centre. More specifically, we examine the technical, organisational and economic obstacles and drivers around the production of fertilisers from human excreta, in particular from urine, under good sanitary and agronomic conditions. We show the build-up of evidence about the limits of the current wastewater management system and the need for a paradigm shift. Nonetheless, pilot projects remain difficult to implement (due to political, sociocultural, economic, regulatory and technical obstacles, which are particularly tough in the case of a megacity). Despite this, there has been a recent shift in the dynamics, with projects emerging on the margins of urban planning. A key factor in their success is adaptation to different territorial configurations. Backed by individuals and groups with specific priorities, these projects offer a glimpse of the possibility of devising new sociotechnical systems for managing human waste.
Une approche holistique des questions environnementales met en lumière les limites atteintes par l'utilisation des égouts pour éloigner les excrétats humains des espaces habités. Les mégapoles, en particulier, sont aujourd'hui exposées à des enjeux aigus et encore méconnus. Dans un contexte de changements globaux majeurs auxquels l'assainissement doit faire face, une si grande concentration de population met le modèle classique de l'assainissement sous tension. À la saturation récurrente des systèmes d'assainissement centralisés, s'ajoute une empreinte élevée en matière de dépense énergétique, d'émissions de gaz à effet de serre et souvent de pollution des milieux aquatiques. Pourtant, ces excrétats, gérés séparément, pourraient être utilisés comme matières fertilisantes : leur utilisation agricole permet de sortir d'une logique de dépollution des excrétats et de créer un mutualisme entre territoires urbains et agricoles, ces derniers bénéficiant alors de matières fertilisantes pérennes, locales et non fossiles. À partir du cas de l'agglomération parisienne, nous proposons une analyse transversale des opportunités actuelles de mise en oeuvre de filières de séparation à la source en contexte de grande concentration urbaine. Plus spécifiquement, nous nous intéressons aux freins et leviers techniques, organisationnels, économiques, en vue de la production de fertilisants à partir des excrétats humains et en particulier des urines, dans de bonnes conditions sanitaires et agronomiques. Nous montrons l'accumulation d'éléments de démonstration quant aux limites du système d'assainissement actuel et la nécessité d'un changement de paradigme. Persiste, nonobstant, une difficulté à mettre en place des projets pilotes (freins politiques, socioculturels, économiques, réglementaires et techniques, exacerbés dans le contexte d'une mégapole). Toutefois, une dynamique récente s'observe, avec des projets qui émergent en marge de la fabrique urbaine. Un facteur clé de leur réussite tient à leur adaptation aux différentes configurations territoriales. Portés par des individus et collectifs aux trajectoires spécifiques, ceux-ci laissent entrevoir une capacité à inventer de nouveaux dispositifs sociotechniques de gestion des excrétats humains.
Fichier principal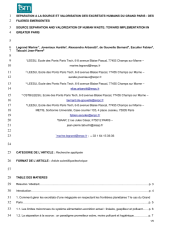 legrand et al_TSM_2021_DIFF.pdf (1.67 Mo)
Télécharger le fichier
Origin : Files produced by the author(s)