Pourquoi le recours à l'éco-prêt à taux zéro est-il si faible ?
The zero-interest green loan (ZIGL) programme allows French homeowners to finance home energy retrofits at zero interest rate. Launched in 2009 in the wake of the Grenelle de l'environnement, the programme has strongly underperformed expectations. As the Citizen Convention for Climate now recommends extending the programme, we examine the reasons for the gap between predicted and realized ZIGLs. We find it to be best explained by a lack of profitability for banks. As a consequence, banks exploit consumers' lack of information about the programme to sell them more conventional financial products. In contrast, the role played by other frequently-cited causes, such as high transaction costs and a low interest rate environment, seems to be modest. We conclude that the efficiency of the programme could be improved by assigning loan issuance to a public bank.
L'éco-prêt à taux zéro (EPTZ) permet aux propriétaires de logements de financer des travaux de rénovation énergétique sans payer d'intérêts. Lancée en 2009, cette politique phare du Grenelle de l'environnement n'a pas rencontré le succès escompté. Aujourd'hui, la Convention citoyenne pour le climat (2020) propose de généraliser l'EPTZ. Pour juger de l'opportunité d'une telle mesure, nous nous interrogeons sur les causes possibles de l'écart entre le nombre d'EPTZ initialement prédit et effectivement réalisé. Nous identifions comme cause principale un manque d'attractivité du dispositif pour les banques. Celles-ci mettent en oeuvre des stratégies d'évitement qui prospèrent sur une forme de désintérêt des ménages. D'autres causes fréquemment avancées, comme les coûts administratifs ou l'environnement de taux d'intérêt faibles, semblent jouer un rôle moins important. Nous concluons que l'efficacité du dispositif pourrait être améliorée en transférant l'octroi des prêts à une banque publique.
Fichier principal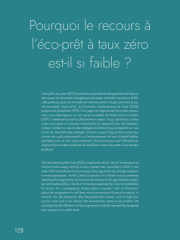 Transitions_2021_Louis_Gaetan_Giraudet.pdf (325.35 Ko)
Télécharger le fichier
Origin : Explicit agreement for this submission