Futurs à Venir : construire le public du développement territorial. Monographie réalisée dans le cadre du projet FIP Explo.
This working paper analyzes a territorial prospective approach mobilizing a team of designers and videographers who have made social-fiction films to represent imagined futures. The research reveals the methodological stakes of this approach for its organizers: from the projection into a future to be made to the construction of a public for the territorial development. This is part of a collective research on the introduction of methods inspired by (civic) design in public action and especially in planning (ANR FIP Explo). After a brief presentation of the approach, this will be analyzed through three lenses: the attention to methodology as a purpose, the use of video and the use of filmed fiction, the constitution of an public and a space for debate.
Ce document de travail analyse un dispositif de prospective territoriale mobilisant une équipe de designers et vidéastes qui ont réalisé des films de social-fiction pour représenter les futurs imaginés. L'enquête met au jour les enjeux méthodologiques de cette démarche pour ses organisateurs: de la projection dans un futur à faire advenir à la construction d'un public pour le développement territorial. Elle s'inscrit dans une recherche collective portant sur l'introduction de méthodes inspirées du design (de service) dans l'action publique et notamment l'aménagement et l'urbanisme (ANR FIP Explo). Après une présentation succincte de la démarche, celle-ci sera analysée à travers trois enjeux identifiés : l'attention portée à la méthodologie comme finalité, l'usage de la vidéo et le recours à la fiction filmée, la constitution d'un public et d'un espace de débat.
Fichier principal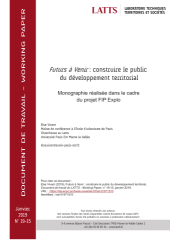 WP 2019 15 VIVANT VF.pdf (468.77 Ko)
Télécharger le fichier
Origin : Files produced by the author(s)