The Vacma, the ergonomist and the network actor.
La Vacma, l'ergonome et l'acteur réseau.
An ergonomist and sociologist duo looks at the working conditions of tramway drivers. For 14 years, their intervention lead them to navigate between different levels of action. From a local action, on the transit network of Clermont-Ferrand, the binomial is anchored in the work activity, from there, to unfold the network of actors which contributes to shape this local situation. When the ergonomist deepens a local analysis, the sociologist looks for an operator likely to multiply and transform this action. A trade union federation or a watch pedal can then become operators who transform the actor network of the tram either through a new form of action or by that of a national standard.
Un binôme ergonome et sociologue se penche sur les conditions de travail des conducteurs de tramways. Pendant 14 ans, leur intervention les amène à naviguer entre différents niveaux d'action. À partir d'une action locale, sur le réseau de Clermont-Ferrand, le binôme s'ancre dans l'activité de travail pour, à partir de là, déplier le réseau d'acteurs qui contribue à mettre en forme cette situation locale. Quand l'ergonome approfondit une analyse située localement, le sociologue cherche un opérateur susceptible de démultiplier et transformer cette action. Une fédération syndicale ou une pédale de veille peuvent alors devenir des opérateurs qui transforment l'acteur réseau du tramway soit par le biais d'une nouvelle forme d'action soit par celui d'une norme nationale.
Fichier principal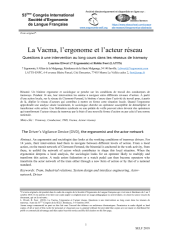 180604_ Self53_Elwert-Foot_Vacma-ergo-acteur-réseau.pdf (270.53 Ko)
Télécharger le fichier
Origin : Files produced by the author(s)