L'Asie du Sud-Est, un terrain d'innovation par le numérique pour la mobilité ? Étude de cas à partir des services de taxi à Ho Chi Minh Ville et Kuala Lumpur
Southeast Asia is experiencing rapid urban and economic growth, along with profound changes in urban mobility systems. It is also witnessing the rapid spread of smartphone and mobile applications that are likely to transform mobility services and ultimately shift the balance among them. Based on an extensive literature review and field interviews in that region, this article explores the role of mobile applications in the transformation of taxi services in two Southeast Asian cities: Kuala Lumpur, in Malaysia; and Ho Chi Minh City, in Vietnam. It shows that ride-hailing mobile applications contribute to increasing taxi drivers' income and to enhancing users' perception of the quality of the service. It also shows that these mobile applications challenge the government's role in planning, regulating and controlling this industry.
L'Asie du Sud-Est connaît une croissance urbaine et économique rapide, accompagnée d'une transformation en profondeur des systèmes de mobilité urbains. Elle est également le théâtre d'une diffusion rapide du smartphone et d'applications mobiles susceptibles de transformer les services de mobilité et, à terme, de déplacer les équilibres entre ces services. À partir d'une revue de littérature extensive et d'entretiens sur le terrain, cet article explore le rôle des applications mobiles dans la transformation des services de taxi dans deux villes d'Asie du Sud-Est : Kuala Lumpur, Malaisie, et Ho Chi Minh Ville, Vietnam. L'analyse montre notamment que les applications mobiles de réservation de taxi contribuent à augmenter les revenus des chauffeurs et à améliorer la qualité du service perçue par l'usager. Elle montre également que ces applications mobiles questionnent le rôle des pouvoirs publics en matière de planification, de régulation et de contrôle du secteur.
Fichier principal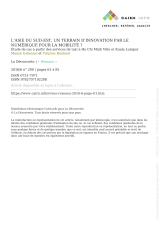 RES_200_0061.pdf (1.18 Mo)
Télécharger le fichier
Origin : Files produced by the author(s)