What does "mapping risks" mean in a risk society?
Que signifie « cartographier les risques » dans une société du risque ?
Risk mapping (natural and industrial) is a regulatory tool used by public authorities to manage risks and anticipate their consequences in planning. However, this device can hardly account for the spatial and temporal dynamics that occur in each risk situation. Drawing on Ulrich Beck's work Risk Society, this article shows that it is not just a question of simply juxtaposing different heterogeneous dimensions, but of making the links between the spatiality and temporality of risks visible. Likewise, mapping in a "society of risk" means developing new metrics of risks and making visible the many processes of translation through which the latter pass. This article proposes a navigational approach to circumventing the limitations of traditional risk mapping.
La cartographie des risques (naturels et industriels) est un instrument réglementaire utilisé par les administrations publiques pour gérer les risques et anticiper leurs conséquences au niveau de l'aménagement du territoire. Cependant, ce dispositif peine à rendre compte des dynamiques spatiales et temporelles qui apparaissent dans chaque situation de risques. À partir des enseignements de la Société du risque d'Ulrich Beck, il est montré qu'il ne s'agit pas juste de juxtaposer des dimensions hétérogènes, mais de rendre visible les articulations entre les spatialités et temporalités des risques. Aussi, cartographier dans une Société du risque implique de développer de nouvelles métriques du risque et de rendre visibles les nombreuses opérations de traductions par lesquelles passe celui-ci. L'article propose ainsi une approche navigationnelle pour dépasser les limites de la cartographie traditionnelle des risques.
Fichier principal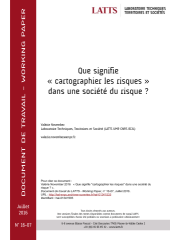 WP 2016 07 NOVEMBER VF 07 07 2016.pdf (3.22 Mo)
Télécharger le fichier
Origin : Files produced by the author(s)