Competitiveness clusters: autonomous meta-organizations ?
Les pôles de compétitivité, des méta-organisations autonomes ?
In 2005, the French government approved 71 competitiveness clusters (or « pôles de compétitivité »), dedicated to different industries and located in different regions. The understanding of the creation of the clusters has gained major attention in the literature, whereas fewer scholars have been interested at analyzing their trajectory on the long-term. What impact do they have on their surrounding region? And what are the contingency factors influencing their trajectory? This working paper offers to answer these specific questions. Our research is based on a comparative study of six clusters. Inspired by the work of sociologist M. Grossetti, we produce an analysis of the processes of embeddedness and decoupling that come into play when an organisation is created. This brings up broader debates around the autonomy of the cluster.
En 2005, le gouvernement français labellise 71 pôles de compétitivité. Si l'analyse de leur création a fait l'objet de nombreux travaux, plus rares sont ceux qui se sont intéressés à leur devenir, à leur trajectoire. Or, ces pôles existent et fonctionnent depuis maintenant plus de dix ans. Quels impacts ont-ils dans le territoire ? Et quels sont les facteurs de leur contingence ? Ce working paper propose une analyse de la trajectoire des pôles de compétitivité, en tant que méta-organisations particulières. Cette analyse est abordée en termes d'encastrement et de découplage en s'inspirant des travaux de Michel Grossetti. Une approche comparative entre six pôles de compétitivité a permis d'identifier des facteurs de contingence qui influencent leurs trajectoires et d'étudier leur processus d'autonomisation.
Fichier principal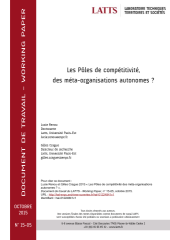 WP 2015 05 Renou Crague VF.pdf (369.99 Ko)
Télécharger le fichier
Origin : Files produced by the author(s)