Towards improved Hashin–Shtrikman bounds on the effective moduli of random composites
The celebrated bounds of Hashin and Shtrikman on the effective properties of composites are valid for a very wide class of materials. However, they incorporate only a very limited amount of information on the microstructure (volume fraction of each phase in the case of isotropic microstructures). As a result, they are generally not tight. In this work, we present an attempt at improving these bounds by incorporating explicitely the local volume fraction to the set of local descriptors of the microstructure. We show that, quite unexpectedly, the process fails in the sense that the classical bounds are retrieved. We further show that this negative result applies to so-called weakly isotropic local descriptors of the microstructure (to be defined in this paper). This suggests that improved bounds may be obtained with anisotropic descriptors.
Les bornes de Hashin et Shtrikman sur les propriétés effectives de composites sont valides pour une classe très large de matériaux. Néanmoins, elle ne prennent en compte qu'une information très limitée sur la microstructure (fraction volumique de chaque phase dans le cas isotrope). De ce fait, ces bornes ne sont en général pas très serrées. Dans ce travail, on présente une tentative d'amélioration de ces bornes par addition explicite de la fraction volumique locale au jeu des descripteurs locaux de la microstructure. On montre que, de façon inattendue, cette approche échoue, au sens où elle conduit aux bornes classiques. On montre ensuite que ce résultat négatif s'applique à tous descripteurs locaux de la microstructure faiblement isotropes (en un sens qui est précisé dans cet article). Cela suggère que des bornes améliorées pourraient être obtenues en considérant des descripteurs anisotropes.
Fichier principal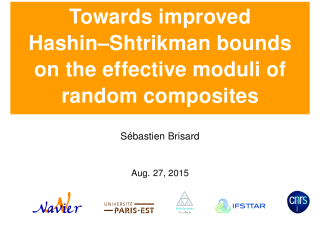 CFM2015-BRISARD_Sebastien-slides.pdf (1.3 Mo)
Télécharger le fichier
Origin : Files produced by the author(s)