Les jeunes diplômés auto-entrepreneurs : une entrée atypique sur le marché du travail
French lawmakers recently introduced a new fiscal and regulatory plan for very small businesses: selfentrepreneurship. This working paper presents the results of a survey of young graduates entering the job market, especially young urban planners. They have made use of the self-entrepreneur to gain employment, without any prior experience and training to start a new business. How have these respondents dealt with a situation at odds with their original career plan of becoming an employee? In trying to understand how these young graduates adapt to their new situation, the survey reveals that self-entrepreneurs have ambivalent feelings that betray the plan's ambiguities. In the analysis of the respondents' discourse and the accommodations they make, this paper reveals the multiple uses and meanings of the self-entrepreneur plan. Although all respondents are in a situation of professional insertion, officially independent, but dominated by contract givers, each one has made individual adjustments to the work, the employment and entrepreneurship itself based on personal experience and the different professional socialisation and learning processes. They thus have created an identity for themselves and others as they navigate through employment, activity, independence and professionalism. Three ideal-typical patterns of the young graduates' social uses of the self-entrepreneur plan are identified and discussed in this article. This categorization helps understand the processes of what appears to be a transition to self-entrepreneurship. It highlights how the graduates have resisted, adapted and even embraced changes in the rules of the game, where entrepreneurial work may gradually replace the wage system. In which way is registration into the self-entrepreneur plan contributing to developing an entrepreneurial ethos among young graduates?
Ce document de travail présente une enquête sur les jeunes diplômés auto-entrepreneurs en urbanisme. En s'appliquant à comprendre comment (et pourquoi) de jeunes diplômés s'inscrivent au régime de l'auto-entrepreneur et en analysant comment ils s'adaptent, composent, apprennent dans cette situation nouvelle, cette recherche interroge la pertinence et l'efficience de l'insertion sur le marché du travail par l'inscription à ce régime. Après avoir présenté quelques éléments de cadrage sur le régime de l'auto-entrepreneur et sur les conditions d'insertion professionnelle des jeunes diplômés en urbanisme, ce document de travail apportera des éclairages sur ces situations atypiques. Qu'est-ce qui amène ces jeunes diplômés à s'inscrire au régime des auto-entrepreneurs ? Quels sont les problèmes que rencontrent les jeunes diplômés auto-entrepreneurs (difficultés relatives à la compréhension du statut, aux questions de gestion financière et d'organisation du travail et d'isolement) ? Comment font-ils face à cette situation inattendue, qui rompt avec les schémas habituels d'insertion professionnelle des urbanistes et avec les projets professionnels qu'ils s'étaient forgés au cours de leur formation ? L'enquête révèle les sentiments ambivalents des jeunes auto-entrepreneurs, reflétant les ambiguïtés du régime et de ses principes et objectifs originels. Comment ces jeunes diplômés construisent-ils une identité professionnelle ? Selon les motifs d'inscription, les modalités d'exercice, les activités, le projet professionnel, on peut distinguer trois postures de jeunes diplômés auto-entrepreneurs : subordonné, en insertion ou indépendant. Comment ces jeunes diplômés deviennent-ils des sujets entrepreneuriaux ? En quoi l'inscription au régime de l'auto-entrepreneur participe-t-elle au développement d'un éthos entrepreneurial chez les jeunes diplômés ?
Fichier principal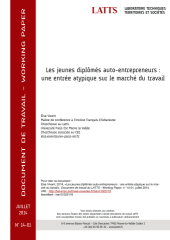 WP_2014_01_VIVANT_VF.pdf (610.04 Ko)
Télécharger le fichier
Origin : Files produced by the author(s)