Credit in society and in Sociology. About « La Banque et sa clientèle » (Bourdieu, Boltanski, Chamboredon, 1963)
Le crédit dans la société salariale et dans la sociologie. À propos de La Banque et sa Clientèle (Bourdieu, Boltanski, Chamboredon, 1963).
In 1963, three young sociologists - Pierre Bourdieu, Luc Boltanski and Jean-Claude Chamboredon - propose the first sociological research on the credit practices of a large French bank. The article presents the background and results of The bank and its clients, showing that the organization of the credit market is a mirror of social stratification. The forms it takes from the 1960s, which are at the source of its contemporary forms, are closely linked to the wage society. The article then goes back to the way in which certain analyzes are found in subsequent research by the authors. In the last part, the article compares this research with the evolution of the place of credits in society and in sociology: the interest for the credit of French sociology is always linked to an interest in social integration.
En 1963, trois jeunes sociologues – Pierre Bourdieu, Luc Boltanski et Jean-Claude Chamboredon – proposent la première recherche sociologique sur les pratiques de crédit d'une grande banque française. L'article présente le contexte et les résultats de La banque et sa clientèle, en montrant que l'organisation du marché du crédit est un miroir de la stratification sociale. Les formes qu'il prend à partir des années 1960, et qui sont à la source de ses formes contemporaines sont intimement liées à la société salariale. L'article revient ensuite sur la façon dont certaines analyses se retrouvent dans des recherches ultérieures des auteurs. Dans une dernière partie, il met en regard cette recherche avec l'évolution de la place des crédits dans la société et dans la Sociologie : l'intérêt pour le crédit de la sociologie française est toujours lié à un intérêt pour l'intégration sociale.
Fichier principal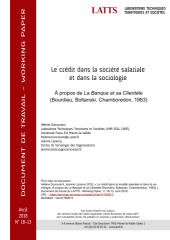 WP 2017 13 DUCOURANT et LAZARUS VF.pdf (413.54 Ko)
Télécharger le fichier
Origin : Files produced by the author(s)