Développement d'outils de calculs innovants dans l'ingénierie de génie civil
Designing civil engineering structures has long involved the use of digital methods. Nevertheless, the way in which engineers apply said methods nowadays remains very limited and does not allow for a precise assessment of how a structure will behave in the event of failure. This results in a poor estimate of the safety margin available, often leading to oversizing of the structure. Recent developments in the construction world therefore raise questions about the need for more robust and relevant digital tools, in particular to meet environmental challenges. This article provides an overview of the use of these tools and explores recent developments in this area, made in collaboration between researchers and engineers.
Le dimensionnement des ouvrages de génie civil repose, depuis longtemps, sur l'utilisation de méthodes numériques. Néanmoins, la pratique qu'en font actuellement les ingénieurs reste encore très limitée et ne permet pas d'évaluer précisément le comportement des ouvrages à la ruine. Il en résulte une mauvaise estimation de la marge de sécurité disponible, conduisant bien souvent au surdimensionnement de l'ouvrage. Les évolutions récentes que connaît le secteur de la construction questionnent donc le besoin d'outils numériques plus robustes et plus pertinents, notamment, pour répondre au défi écologique. Cet article dresse un panorama de cet usage et met en lumière les outils récents développés grâce à une collaboration entre le monde académique et celui de l'ingénierie.
Fichier principal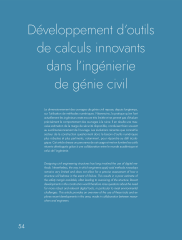 Transitions_2022_Bleyer.pdf (9.33 Mo)
Télécharger le fichier
Origin : Explicit agreement for this submission