Objets connectés en santé au travail : en attendant l'activité…
Connected objects arouse a significant interest in the area of occupational health. Massive data collection could be used to design and implement policies that promote well-being at work, safety and health of employees. The paper reports on the promotion of this idea and the existing technological offer, and then considers specifically the experimentation of a connected cube. It is tested within a wider innovation process that should help to design how to support workplace health policies of companies. The paper shows that, although only collecting data on the more or less comfortable character of work environment, its deployment is complicated. Technical and user reception barriers occur. Beyond that, it is especially the lack of awareness of the activity which is actually missing.
Les objets connectés intéressent vivement le monde de la santé au travail. La collecte de données massive pourrait être mise à profit pour concevoir et outiller des politiques favorisant le bien-être au travail, la sécurité et la santé des salariés. Le texte rend compte de la promotion de cette idée et de l'offre technologique existante puis se penche sur le cas de l'expérimentation d'un cube connecté. Celui-ci est testé au sein d'un processus d'innovation plus large qui doit permettre de concevoir comment accompagner les politiques de santé au travail des entreprises. Alors qu'il se limite à collecter des données sur l'environnement de travail et son caractère plus ou moins confortable, son déploiement est compliqué. Des obstacles techniques et de réception par les utilisateurs se manifestent. Au-delà, c'est surtout la prise en compte de l'activité qui fait défaut.
Fichier principal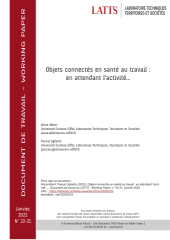 22-WP 2022 21 ALBERT et UGHETTO VF BAP.pdf (659.92 Ko)
Télécharger le fichier
Origin : Files produced by the author(s)