Translating national energy transition goals into a regional action : a thorny problem. The case of the Climate, air quality & energy plan (SRCAE) for the Paris region.
Le SRCAE d'Île-de-France. Ou l'épineuse territorialisation des objectifs nationaux de transition énergétique.
Abstract: Since 2012, a regional climate, air quality & energy plan (SRCAE) defines the major official orientations for the energy transition in the Paris region. This article describes the production and follow-up of this strategic planning document by the Regional council and State services, reviews its reception, and examines the effects it has produced. With a political science and Science & Technology Studies (STS) approach, the author casts new lights on the leadership of the State in energy matters in France (Part I), on the important implications of the choices of carbon accounting and indicators (Part II), and on the limits of the multi-level governance put in place, which is characterized both by some reluctance to precisely map regional action and by the difficulties in mobilizing local authorities (Part III).
Depuis 2012, le Schéma régional du climat, de l'air et de l'énergie (SRCAE) définit les grandes orientations officielles de la région Île-de-France en matière de transition énergétique. Cet article décrit la production et le suivi de ce document de planification stratégique confiés au Conseil régional et aux services déconcentrés de l'État, revient sur sa réception, et examine les effets qu'il a produits. Avec une approche relevant de l'analyse des politiques publiques et des Science & Technology Studies (STS), l'auteur propose un regard renouvelé sur le leadership de l'État en matière énergétique (première partie), sur les implications importantes des choix de comptabilité carbone et d'indicateurs (deuxième partie), et sur les limites de la gouvernance multi-niveaux mise en place, qui se caractérise à la fois par des réticences à cartographier précisément l'action régionale et par les difficultés à mobiliser les intercommunalités (troisième partie).
Fichier principal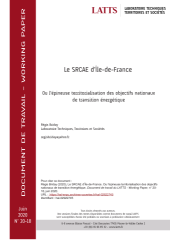 WP 2020 18 BRIDAY VF.pdf (2.49 Mo)
Télécharger le fichier
Origin : Files produced by the author(s)