Research in Transport Socio-economics in France, 1960-1990. History, challenges and influences First step : conditions and orientations of a research. Final report.
La recherche en socio-économie des transports en France, 1960-1990. Histoire, enjeux et influences Première étape : conditions et orientations d'une recherche Rapport final
Cette recherche a un caractère exploratoire, dans l'optique d'un travail beaucoup plus lourd et systématique qui devait être mené à partir de la fin 2005, sous réserve de l'accord du PREDIT, mais la décision de poursuite des investigations n'est jamais intervenue. Elle vise à explorer une question d'histoire récente relative à la recherche en socio-économie des transports sur une petite trentaine d'années (de la fin des années 1960 aux années 1990). Ses principaux objets, et les questions qui sont posées sont : -Quels étaient les milieux de la recherche en socio-économie des transports en France : identification des acteurs, des lieux de recherche, évolution des disciplines et des spécialités des chercheurs ; -Quelle a été l'évolution des structures et des institutions qui l'ont portée : histoire des structures ; origine et volume des financements ; frontières et rapports entre recherche privée et publique ; -Quels en ont été les thèmes de réflexion privilégiés : évolution des intérêts des chercheurs ; rapports entre recherche fondamentale et recherche appliquée ; évolution des produits comme des résultats de l'activité de recherche. Pour ce faire, il était nécessaire de : -Identifier les sources utilisables dans les fonds d'archives publics et éventuellement privés. Il est à craindre qu'un certain nombre de sources écrites (rapports de recherche non publiés, textes d'appels d'offres, etc.) aient été détruites ou archivées de façon trop sommaire pour être aisément identifiables. Certains auteurs de recherche ne se souviennent pas forcément avoir conservé leurs œuvres, comptant sur la propension « naturelle » à l'archivage de leur financeur public ; -mener une série d'entretiens avec les acteurs principaux de la recherche en socio-économie des transports dans la période considérée ; -établir une chronologie critique de l'évolution de la socio-économie des transports. La question majeure est celle de l'émergence ou non d'une discipline à part entière. Il est difficile d'avoir une réponse tranchée à cette question, l'interdisciplinarité ayant été la règle, mais davantage dans le sens d'une cohabitation des disciplines que d'une réelle hybridation ; -avoir une approche critique des recherches au regard des enjeux contemporains de la politique des transports. Cette intention n'a pu être que partiellement concrétisée du fait de l'importance du fonds à dépouiller ; -établir des propositions pour la suite de la recherche et l'ouvrage qui pourrait en résulter. Ces propositions figurent en fin de ce rapport final.
Fichier principal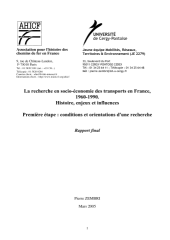 Rapport final DRAST_AHiCF def2.pdf (1.3 Mo)
Télécharger le fichier
Origin : Files produced by the author(s)