The French Energy Syndicates of Communes : Key Players in the Local Energy Transition in France?
Les syndicats d'énergies : bras armés des collectivités territoriales dans la transition énergétique ?
his Working Paper will discuss the renewal processes undergone by central actors of the French energy sector, namely the so called syndicats d'énergies. Starting from the accounts delivered by historical research, we then turn to our empirical results which show a "new" face of the syndicates. The qualitative analysis of their current action, budget and services demonstrates a widely spread model of syndicates now investing in - or advising on - various types of energies. By doing so, they do not merely take responsibility for the rural electrification anymore and are better fitted to play an active role in the energy transition, offering equipment and services that are mutualized on a departmental scale. From a local governance perspective, our comparative analysis of the relationships among syndicates - in particular through regional consortiums – or with a growing number of shareholders, reveals a nascent role of coordinators in the French energy transition.
Ce Working Paper s'intéresse aux mutations récemment vécues par des acteurs centraux et pourtant souvent oubliés du système énergétique français que sont les syndicats d'énergies. Prenant pour point de départ les portraits qu'en ont livré les précédentes recherches historiques, notre enquête de terrain donne à voir un « nouveau » visage des syndicats. L'analyse quantitative de leurs compétences, budgets et services, démontre ainsi un modèle aujourd'hui largement répandu de syndicats d'énergies au pluriel, et non plus uniquement d'électrification comme par le passé. Ces transformations internes font des syndicats des institutions outillées pour proposer des équipements et services de transition énergétique mutualisés à l'échelle départementale. D'un point de vue de gouvernance locale, l'analyse comparative des relations que les syndicats entretiennent entre eux – notamment par le biais d'ententes régionales – ainsi qu'avec un nombre croissant de parties prenantes, révèle un rôle en gestation de mise en cohérence des politiques locales de transition énergétique.
Fichier principal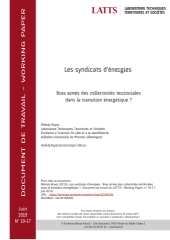 WP_2019_17_BOYER_VF.pdf (6.79 Mo)
Télécharger le fichier
Origin : Files produced by the author(s)