Analysing state and urban restructuring through public landownership
Barracks, ports, hospitals, prisons, railway yards are earmarked for many redevelopment projects in European cities. A substantial part of urban regeneration therefore occurs on state places from which state organisations conduct their activities across the country. Summarizing my PhD thesis, this working paper interprets these redevelopment projects as the reorganisation of the logistical power of the state, i.e. its capacity to order the flows of things, information, and people. It questions the reasons and the modalities of this reorganisation through the analysis of the terrains of a specific sector, railway firms. The comparative enquiry carried out on two countries (Italy and France) and four cities (Milan, Bolzano Paris and Nantes) distinguishes two main factors. On the one hand, urban governments question the way the railway network has occupied urban areas since the 1970s, in relation to their increasing resources and power in urban development. On the other hand, real estate logics and skills have expanded within these publicly owned firms since the beginning of the 1990s, due to their greater accounting autonomy and their need to face a rising financial pressure. Urban redevelopment projects are then a space of adjustment of three main 'conceptions' regarding the motives for the redevelopment of urban railway sites: real estate business, urban planning, and functional improvement of the railway network. The distinct sets of public land institutions explain the different local adjustment paths in Italy and France.
Casernes, ports, hôpitaux, prisons, ou encore sites ferroviaires font l'objet de nombreux projets de reconversion dans les villes européennes. Une part substantielle du renouvellement urbain s'effectue ainsi sur des 'terrains de l'État' – ces emprises qui permettent aux administrations et opérateurs publics de déployer leurs activités dans le territoire national. Résumant ma thèse de doctorat, ce document de travail interprète ces reconversions comme la réorganisation du pouvoir logistique de l'État dans les villes, c'est-à-dire sa capacité à organiser les flux de choses, d'informations et de personnes. Il interroge les raisons et les modalités de la réorganisation de ce pouvoir en analysant les sites d'un type d'opérateur, les entreprises ferroviaires. L'enquête comparative menée sur deux pays (Italie et France) et quatre villes (Milan, Bolzano, Paris et Nantes) identifie deux principaux facteurs explicatifs. D'une part, les gouvernements urbains mettent en cause les modes d'occupation du réseau ferroviaire depuis les années 1970, dans le contexte de leurs ressources et de leur pouvoir croissants dans l'aménagement. D'autre part, des logiques et des compétences immobilières se développent au sein des firmes publiques de flux depuis le début des années 1990, dans le contexte de leur autonomisation comptable et de pressions financières accrues. Les projets d'aménagement constituent alors un espace d'ajustement des trois 'conceptions' dominantes de la reconversion des sites ferroviaires : immobilière, urbanistique et industrielle. Les institutions foncières nationales expliquent les différences entre les ajustements locaux dans les deux pays.
Fichier principal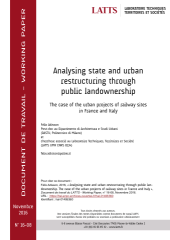 WP 2016_08_ADISSON VF2.pdf (1.84 Mo)
Télécharger le fichier
Origin : Files produced by the author(s)