Mise au point d'une stratégie d'amélioration des plantations de teck au Togo
The 50 000 ha of teak (Tectona grandis) plantations from Togo represent the unique opportunity of timber and service production for the country. However, these plantations are confronted with a problem of their productivity reduction. A study was initiated in the aims to work out an improved planting material and adapted to current production systems in Togo. It is about to select the best performing individuals based on morphological and technological trials within the current populating of of teack in Togo. Thus, on the basis of trees morphological, over 67 candidates (APC) were selected from 20 plots of at least 15 years, located in 5 forests in Togo. After determination and integration of APCs technological trial to a second selection, 20 trees (AP) qualify as the best in the light of all the selection criteria, were retained. These AP will be used to revolutionize the field of teak in Togo.
Les 50 000 ha de plantations de teck (Tectona grandis) du Togo représentent la seule opportunité de production de bois d'oeuvre et de service pour le pays. Cependant ces plantations sont confrontées à un problème de réduction de leur productivité. Une étude a donc été initiée dans le but de mettre au point un matériel végétal amélioré et adapté aux systèmes de production actuels au Togo. Il s'agit de sélectionner les individus les plus performants au sein des peuplements actuels sur la base des caractères morphologiques et technologiques d'intérêt chez le teck au Togo. Ainsi sur la base des caractères morphologiques, 67 arbres plus candidats (APC) ont été choisis dans 20 parcelles d'au moins 15 ans, réparties dans 5 forêts au Togo. Après détermination et intégration des caractères technologiques des APC à une seconde sélection, 20 arbres (AP) sont retenus comme étant les meilleurs au vu de tous les critères de sélection. Ces AP serviront à révolutionner la filière du teck au Togo.
Fichier principal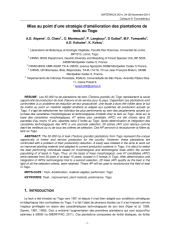 1426_materiaux2014-ecomateriau.pdf (451.99 Ko)
Télécharger le fichier
Origin : Files produced by the author(s)