L'enjeu paradigmatique de la relation de service au sein de la sociologie du travail
In addition to an approach that seeks to diversify the objects and fields of study covered in the sociology of work, in the 1990s service relationships were first and foremost considered a paradigmatic challenge where researchers were asked to conceptualise work-related problems otherwise than as typical work-related or social examples of rationalisation and resistance to rationalization. What people usually feared is that this might limit analysis to the micro-analytical level. The article argues that before returning to a relationship-oriented approach, there is a need to further explore relational approaches' ultimately more open-ended potentialities.
Más allá de la temática a través de la cual la sociología del trabajo ha debido diversificar sus objetos y sus terrenos, la relación de servicio ha tenido, sobre todo en los años 1990, una gran importancia paradigmática. Ha incitado a los investigadores a dar forma a los problemas del trabajo desde una óptica distinta de la que ofrece el ángulo (típico de una problemática del trabajo como vínculo social) de la racionalización y de las resistencias a la racionalización. Muchas veces el temor es que ello induzca a encerrarse en el nivel microanalítico. El artículo sostiene que antes de volver a una problemática del vínculo es necesario seguir explorando las posibilidades, a fin de cuentas más abiertas, de la problemática de la relación.
Au-delà de la thématique par laquelle la sociologie du travail a été amenée à diversifier ses objets et ses terrains, la relation de service a surtout représenté, dans les années 1990, un enjeu paradigmatique. Elle a invité les chercheurs à mettre en forme les problèmes du travail autrement que sous l'angle - typique d'une problématique du travail comme rapport social - de la rationalisation et des résistances à la rationalisation. La crainte a souvent été que cela n'induise un enfermement dans le niveau micro-analytique. L'article défend qu'avant d'en revenir à une problématique du rapport, il faut continuer d'explorer les possibilités, finalement plus ouvertes, de la problématique de la relation.
Fichier principal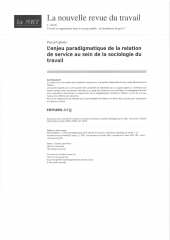 13-NRT-RelationdeService.pdf (6.2 Mo)
Télécharger le fichier
Origin : Files produced by the author(s)